SHROUDED IN MYSTERY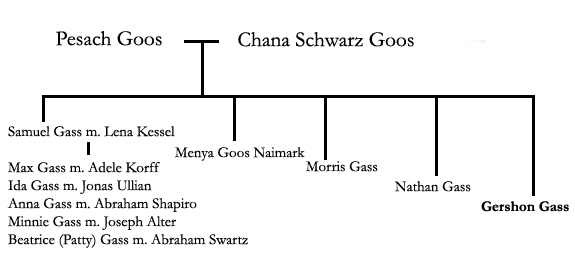 THE YOUNGEST BROTHER OF SAMUEL, Menya, Morris, and Nathan was Gershon Gass. He was born in 1889 and died at the age of 34. Most of what is known about him was been pieced together from official records.
Gershon is listed as "Gershon Guss" in the passenger manifest for the SS Patricia, which departed from Hamburg, Germany, on 6 July 1906 and arrived in New York on 20 July 1906. According to the manifest, Gershon was a 17-year-old male, single, and traveling alone. He was able to read and write, and prior to immigrating, he had resided in Trisk [sic]. Gershon was destined for Chelsea, Massachusetts, where he planned to join his brother "Nuksin Guss." ["Nuksin" probably refers to his brother Nathan Gass.] Nuksin's street address is almost illegible; it appears to be 192 4th St. Gershon had paid for his own passage to America and he had $5.00 in his possession when he arrived.[1]
The Chelsea City Directory for January 1918 lists a George Gass, junk dealer, who roomed at the Y.M.C.A.[2] The 1920 U.S. Census [3] shows that Gershon, who immigrated to the U.S. in 1906, went by the name of George Gass and lived as a boarder at 205 Shurtleff Street in Chelsea, which appears to be a lodging house run by a Mr. Thyme.
George was 30 years old at the time and worked as a junk dealer.
Little else is known about Gershon, except that he was unmarried and he was supposed to be one of the original partners at Lion Shoe. Even his early death was shrouded in mystery for a time.
On October 16, 1923, the Boston Post carried the following story about an unidentified man:[4]
"The body of a well-dressed man, about 35 years old, was discovered in a gas- filled room on the third floor of a lodging house at 12 Dillaway Street late yesterday afternoon. He had committed suicide early in the morning, a few hours after he hired the room 'for a week.'… Asked to sign the register the new lodger wrote 'G. Gunn, Chelsea.'…[5]
The story continued:
"His coat pockets contained $15.05, mostly in small bills, some Chelsea railway tickets and a fragment of a card on which the following was legible: "M—-lman, Boston, Mass., 153. Telephone: East Boston. He had no baggage with him."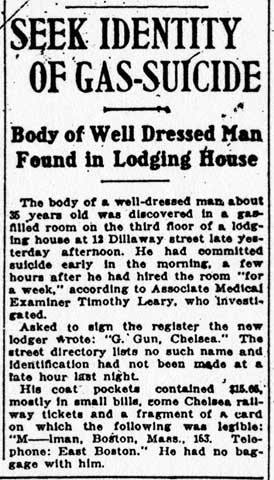 The October 17, 1923 edition of the Chelsea Evening Record gave additional details:[6]
"Boston and Chelsea police are endeavoring to learn the identity of a man who registered as 'Mr. Gun of Chelsea, Mass.' at a lodging house at 12 Dillaway St., Boston and whose dead body was found Monday afternoon at the foot of the bed. Officers of the Lagrange St. Station broke down the door. Death evidently was caused by gas poisoning as three jets were open in the gas-filled room. The body is at the Southern mortuary awaiting identification.

"The man is described as follows: About 30 years of age, 5 feet 7 inches in height and 150 pounds in weight. He was dressed in a dark gray suit with stripes; black stockings and low tan shoes. On the finger of the left hand a signet ring was found with an engraved letter 'G,' which could help to bear out the name Gun.[7]

"There is no one in the Chelsea directory by the name of Gun. At the home of William D. Gunn, 108 Clark Ave., investigation revealed that none of the male members of the family is missing."
Within three or four days, Gershon's body was correctly identified by M. Rottenberg, who apparently was a boarder at Samuel Gass's home at 88 Orange Street. According to George Gass's death certificate, he was buried in a Jewish Cemetery in Everett. The certificate gave his age as 29 and occupation as laborer,[8] although according to family tradition he was a partner in the Lion Shoe Company.
After Gershon died family members believe that Abraham Gootman, Samuel Gass's brother-in-law, was brought in as a partner at Lion Shoe to replace Gershon.