The Children of Samuel and Lena Gass
Max Gass
MAX GASS WAS BORN on January 4, 1909, in the three-decker home of his parents on Orange Street in Chelsea. On the birth certificate his name is listed as Max Hyman Gass—not Max Harry, the name he used later in life. His birth was registered more than a year late, on March 16, 1910. At that time, his parents' residence was listed as 3 Spiers Place.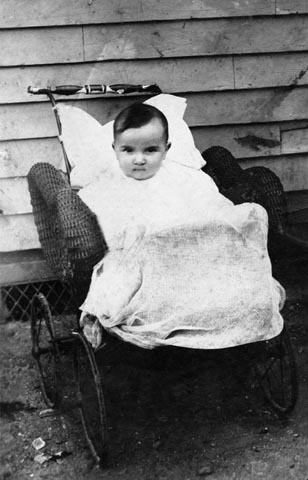 For more information about Max's childhood, read Max's Road.
---
Ida Gass Ullian
Ida Marilyn Gass, the oldest of Samuel and Lena's daughters, was born on March 8, 1912. She is remembered for her sharp mind and strong personality. On June 16, 1935, Ida married Jonas Ullian, a pharmacist, and they had two daughters Shiela and Judy. [1]
According to Ida's daughter Judy:
"My mother went to Emerson College where she majored in drama and theater arts, and loved putting on plays. Then she worked at the Settlement House in Roxbury, which was still a Jewish section at that time. I'm not sure how she met my father—I assume they were fixed up—but it was a true romance. They fell in love. After they married, they lived for a short time with her parents in Chelsea. When my sister, Shiela, was born they left County Road. My father was a phar­macist with one drugstore in Jamaica Plain, and one in Boston on the Fenway.

"A lot of stuff was hidden from my sister and me. I guess I really didn't understand my mother until the last five or six years, as much as I can ever understand her. I felt that she was very rigid with me. She was kind of distant and found it hard to show her feelings and affection. I think a lot of the things that upset me related to her background. She really didn't know how to give.

"I don't know whether or not my mother ever felt that she lived up to her father's expectations. My mother probably should have been in business. She was a very bright woman, knew the stock market, and knew law. She was also well versed in Hebrew. She was torn between having to be an Orthodox Jewish woman and all that entailed, and what she was suited to be intellectually and emotionally. I think it was tough for her.

"Family was absolutely the most important thing in my mother's life. Every Sunday was go-to-Chelsea day, and we would visit my grandparents—the Gass grand­parents first, and then Bubbe and Zadie Ullian, who lived on Carmel Street. We did that for as long as I can remember while everybody was still alive. We spent every holiday at County Road. After my grandmother died, my mother was run­ning to Chelsea to take care of the house and do the cooking for my grandfather. Shiela would stay over with her.
Ida died in 1988 at the age of 76.
Anna Gass Shapiro
Samuel and Lena's second daughter, Anna, was born on August 15, 1915, and named for her paternal grandmother, Chana Goos. She graduated from Simmons College, and married Abraham Shapiro in 1947 or 1948. They lived in Bangor, Maine, where Abra­ham owned a drugstore. Anna died on January 14, 1958, at the age of forty-three.
Minnie Gass Alter
The third of the four Gass sisters, Minnie, was born on February 20, 1917. She attend­ed the University of New Hampshire and Emerson College. In 1946, Minnie exchanged wedding vows with Joseph Alter, an attorney. They had two sons: Leonard and Roger. Minnie and Leonard separated when their younger son was in college and divorced. Minnie died of cancer on November 8, 1985.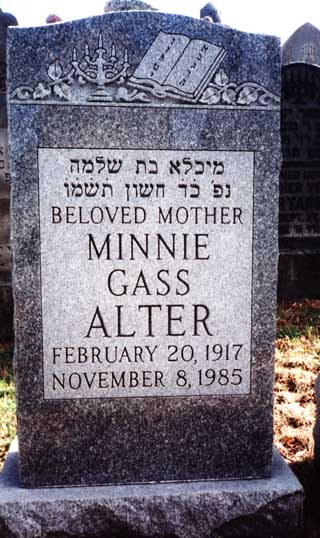 Beatrice Pauline (Patty) Gass Swartz
PATTY GASS, THE YOUNGEST of Samuel and Lena's children, was born on January 14, 1922. She was described as the most dynamic and fun loving of her siblings—slender, vivacious, and bright. Her nephew, Paul Gass, called her a free spirit. In 1943, Patty completed a two-year course in physical therapy at Boston University's Sargent College of Physical Education. She then attended Johns Hopkins and became a physical therapist.
Patty fell in love with a young man–a chiropractor–but her father vehemently opposed the match because he thought chiropractors were quacks. In 1950 after Samuel broke up the engagement, he encouraged Patty to marry Abraham Swartz, an army doctor. The wedding ceremony was interrupted when Abe's mother fainted. Abe was stationed in Germany and so the couple lived overseas for a short period. By the time they returned to Chelsea, Patty was pregnant.
The marriage did not work out and the couple split up. Paul Gass provided details:
"Patty returned to the huge, empty house at 27 County Road to her widowed father who was ill with lung cancer. This was either while she was still pregnant or shortly after giving birth to her daughter in 1952. Patty became mentally ill after the baby was born. Perhaps postpartum depression played a major role in her mental state.
"Around this time a lot of other problems arose in the family. Sam Gass started his lengthy decline to death–his lung cancer metastasized and spread to the brain. The glue in the family, the decision maker, had always been Sam, whether positive or negative. He always made things work and now he was fading."

"Patty's mental state deteriorated even more after Sam's death. She was eventually placed in a mental hospital where she was given a partial lobotomy. Some doctor said, This is the only treatment… Patty was institutionalized for the rest of her life. Abe raised their child and remarried."