SAMUEL GASS SUFFERED FROM SEVERE ARTHRITIS PAIN in his later years and he sought treatments in spas in Michigan, Ontario, the Hot Springs of Arkansas, Miami, and Saratoga Springs. Unable to relinquish control of the new rag business, Sam Gass communicated with his family through the mail. His postcards and letters span a 9-year period from 1936 to 1945 and were written in Yiddish. In some of them, Sam addressed his children by their Yiddish names: Anna is Chana, Max is Matus, and but it is not known which of his daughters are Tana and Heneve.
Postmarks provide dates for the postcards but the envelopes for most of the letters were lost and the letters themselves were undated. However, Sam wrote on stationary from the Riverside Hotel and Mineral Baths in Mount Clemens, Michigan. Since he sent postcards from Mount Clemens between 1936 and 1941, it is safe to assume that the letters were written during this time period.
Adele Miller (of Chicago, Illinois) translated the postcards and letters in November 1994, and they are in the possession of Paul Gass.
Translation of above postcard:
Dear Family:

I received Chana's and Tana's letters. The person who is bothering you regarding the rags and wants you to give him samples, tell him that you are unable to do it. He himself is aware what this means. Five years ago when the price of sops was .2½ cents per pound, better merchandise was made than at the present time, when the price is .14 cents per pound.

From me,
Shloime
August 1936
Postcard with a postmark from Mount Clemens, Michigan to Mrs. Gass, 27 County Road, Chelsea, Massachusetts, postmarked August 10, 1936.
Translation of above postcard:
Monday Noon

Dear Family:

Mr. Gershonen from Keystone, Pennsylvania, visited here and told me that he sold the last car to the Rovners for 10½ and 310. He does not like to sell cloth to you or to anyone else, as he loses money on the cloth deal. He will contact you when he will come here.

Mr. Arnov from Detroit will supply you. He is very devoted to me. He visits me often. He is in the same business as you. He will come to your shop to bring regards from me. If he will ask questions, please tell him the truth, as he will recognize a bluff.

From me,
Shloime
July 1941
Translation of above postcard:
Regarding the man who had sample and sends them to you. I advise you to buy only the sops from him, even if it is shipped by local freight. He usually sells his sops to Namen from New York, although Namen does not buy cloth from him.

Kupershmidt from St. Louis came back once more to take baths here. He wants to sell sops again but I think that his sops are of inferior quality.

From,
Shloime
July 1941
Translation of above postcard:
Dear Family:

Max: Aronov is presently here. When you received the bill of lading for $1800 you sent him $200 on account. Don't you know better? If you don't have the full amount, do not send any money.

I had no excuse for your handling of this matter. If you do not have the money, go to the bank and take out a loan.

From me,
Shloime
August 1941
Translation:
Dear Family:

I had not received letters from anyone.

Max: I met here a man, his name is Bricks. I am enclosing his card. People told me that he is a great grader of rags. He said that he has a big supply of sops on hand, table sops, and many woolen bodies.

From each cloth he makes zippers, which he puts into the cloth. I think that you should write to him. I saw the stuff in Mount Clemens, and I explained about the merchandise in Benton Harbor, so that you would know exactly what kind of merchandise it is.

You should ask for sample shipments of 3 bales of sops, 2 of cloth, and 2 of woolen bodies. For the samples you will pay 9 for the sops, 2½ for cloth, 3 for woolen bodies. Perhaps the merchandise is worth more. Write to him. The freight car charges might be higher than the sample is worth.

From me,
Shloime

Dear Heneve,

About the terms, you should try to straighten it out with him. Please send me a copy of the letter that you will write to him.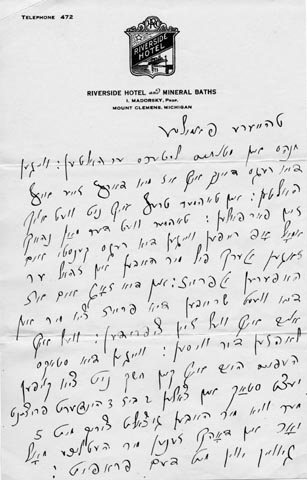 Translation:
Dear Family:

I received Chana's and Matus's letters. Regarding the rags, I believe that they should be held. If I prove to be wrong, it will just be unfortunate. If the man calls you again about the rags, tell him how many we have and ask him to offer you a price. Tell him that you will let me know the price you asked, and if I am satisfied I will advise you.

About stocks, somehow I do not have the desire to buy them now, and to pay from 200 to 300 percent more than what we paid 5 years ago, although it is true that we have made profits several times.

Secondly, in my opinion I shall have to suffer for several more years, and to be desolate in a foreign land. I have to work out from 2:00 AM with baths, and take different kinds of treatments.

I do not think that I will start gambling now. My only worry at the present is to marry off my children, and to be able to make money. And if not, I should be able to spend $15,000 per year, which I have saved, which will be necessary to live on, as long as I have to suffer so long as God grants me life.

From me,
Shloime

Why are you sending letters with six-cent stamps? They will arrive here in the same time.
Translation:
Dear Family,

Today I received Matus's and Chana's letters about the stocks.  About the stocks, I do not have any appetite for them now. Perhaps it is worthwhile to buy bank stocks. Who knows what will happen after the elections?  But it is important to find out whether in case the bank goes out of business, is the bank responsible to the depositors?

Heneve: Send me a list of the stocks that we own, and which pay dividends. Please write which stocks you want to buy and how many of each. The truth is that I have no desire to buy stocks now. These times are too tense and cheap stocks are of no value.

What is new in the factory? Are you working on orders or stock?

From me,
Shloime
Translation:
Matus:

I am sending you an address of a man who was here for ten days. We knew each other for many years. He is a grader of wool rags in Rockford; the name of his company is on the card. His name is Torik. He is located in a section where there is sufficient merchandise. He only buys the right merchandise taken out from the rags before it reaches the dealer.

I discussed matters with him. He said when he comes home, he will try to buy one or two cars for you. He will charge only $50 for his expenses. So he will contact you. I think that he is an honest man. Try him out.

Write after you hear from him. I gave him your address.

Shloime
Translation:
Max: I think that you should know that the property is not ours and you had no business talking. Having a mortgage does not mean that the property is yours. Better do not talk about it.

From me,
Shloime
August 1942
Translation:
Thursday afternoon

Dear Family:

Chana, when you receive this postcard, please send it to the shop to Cutler.

Roosevelt and Churchill did not bluff us. I always told you that on the other side of the ocean there is an American army and they will show up and not cross the channel.

From me,
Shloime
Translation:
Friday afternoon

Dear Family

Max: Regarding the Hevret property for which you had requested $15,000, if there is a good customer who will pay enough money so that it will not be returned to us. Perhaps you could lower the price if he will not offer more.

From me,
Shloime
Translation:
Thursday evening

Dear Family:

Max:

I received your letter advising me about the layoff of the sops pickers. Did you also layoff the baler and thrower accordingly? Or did you make their jobs easier?

From me,
Shloime
Translation
Tuesday daytime

Max:

How much do we have in outstanding sops, cloths, and cash?

To whom do you sell merchandise?

How much are you expecting?

How was Edelstein's merchandise?

What happened to the wipers? Are they working?

Did you already use them up till #2?

What is happening with Miller? Please watch that the tanks are not empty?

From me,
Shloime
Translation:
Wednesday noon

Dear Family:

It seems that Max is not coming to our house. A week ago I asked him about a certain matter and he has not answered me.

Also the papers that you sent out Thursday a week ago, I did not receive yet.

From me,
Shloime
[Note: Although these two postcards were addressed to Lena Gass, indicating that Sam had traveled to Florida alone, he often brought his wife there. According to Hyman Razin:
"Sam and his wife Lena would travel to Florida annually to spend the winter there."[1]
Translation:
Max:

I received your letter. Before you leave for home, go to the Grand Union Hotel and also go to the Empire Hotel and inquire how much they charge for a single room without food after August 5th for six or eight weeks? Also, if the synagogue is nearby, and also is there a restaurant [kosher] to have meals?

From me,
Shloime

Is it possible to get cigarettes there?
---
[1] Written interview, Hyman M. Razin, 8 Feb 1993.