KAMEN KASHIRSKIY AND CHELSEA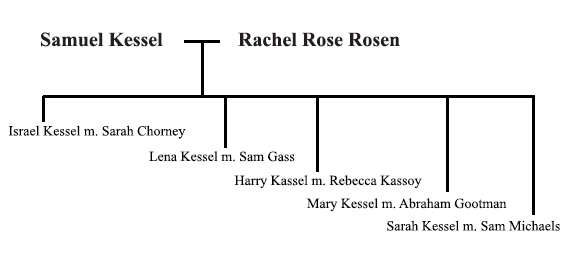 Samuel Kessel and Rachel Rose Razin Kessel
Samuel Kessel, the son of Mattes and "Ida" Kiesel, was born on December 15, 1867, in Kamen Kashirskiy, which was part of czarist Russia at the time. His native language was Yiddish and he went by the name Shmuel Kiesel. He Americanized his name after he immigrated.
Shmuel worked in the cattle business in Russia. In the early 1880s he married Rachel Rose Rosen, a young woman who was born in Kamen Kashirskiy in 1866. Her parents were Osher and Machale. (Machale's name was Americanized To "Mollie" by her descendants.)[1]
Shmuel and Rachel Rose became the parents of five children, all born in Russia:
Israel (Shrulick) Kessel (1884-1950)
Lena (Lea) Kessel Gass (1888-1948)
Harry (Osher) Kassel (1889-1965)
Mary (Mottel) Kessel Gootman (1893-1972)
Sarah Kessel Michaels (1900-?)
In 1905 or 1906, Cossacks rampaged through Kamen Kashirskiy, killing Jewish men, women, and children, and destroying Jewish property. Among those slaughtered by the Cos­sacks were members of Rachel Rose's family. Although they were economically fairly well off, Samuel and Rachel Rose feared that more programs were to come and they decided to immigrate to the United States, where both had brothers in Massachusetts.
Shmuel's brother, Israel Kasel, the first to arrive in America, had been living in the Boston area since April 25, 1899. According to his petition for naturalization papers,[2] Israel Kasel was born on October 10, 1863 in "Kamenkaskirsk, Russia."  His residence in 1904 was 250 Second Street in Chelsea.[3] (He was to live in Chelsea 35-years until his death at the age of 73 from "coronary thrombosis, pulmonary infarct and broncho pneumonia" on April 6, 1936   The last 10 years of his life he worked as a picker in rag shop.[4] Israel's wife, Alice Rovner Kasel died in 1940.[5] )
Rachel Rose's only known sibling—Isaac (Itzik Rosen) Razin—also settled in Chelsea. When he emigrated from Russia in 1901, he brought two of Israel Kasel's daughters, Lea and Chai, with him to Israel's home at 81 Salem Street in Boston. Israel and Alice had at least two other daughters, Mary and Edythe.[6]  It is likely that Israel and Samuel had other relatives who emigrated from Russia and settled in the Boston area.
In 1907, Samuel Kessel left Kamen Kashirskiy to join his brother in Chelsea. He brought two of his teenage children, Mary [Gootman] and Harry [Kassel] with him.[7]  His daughter Lena (Lea) Kessel, the young woman who would marry Samuel Gass, came to America at about the same time. However, her passenger manifest has not been found so it is not clear whether she preceded her father, or come shortly afterward.
In 1911, Samuel's wife Rachel Rose and their youngest daughter, Sarah, joined them. Rachel Rose had originally stayed behind to help the oldest child, Israel, and his wife with their four young sons. In 1921, the last of the family arrived when Israel brought his wife and children to America.
By the time Samuel Kessel settled in Chelsea, Massachusetts, Rachel Rose's brother Isaac Razin, had already entered into the rag business with Samuel Gass. According to family legend, Samuel Kessel had at least one sibling, a brother who came to Chelsea and worked in the rag business for Isaac Razin and Samuel Gass. This sibling was probably Israel Kasel.
Lena and Mary Kessel both married within a few years of immigration. Lena took Samuel Gass as her groom and Mary wed Abraham Gootman. The sisters' maternal grandmother, Machale Rosen, had lived long enough to make a profound impact on her grandchildren. However, she remained in Russia when the rest of the family emigrated and had died before her granddaughters had children of their own. Machale was much loved, and each of Rachel Rose's three daughters named her first female child for her: Minnie Gass Alter (Lena's daughter), Minnie Gootman Forman (Mary's daugh­ter), and Minnie Michaels Glassman (Sarah's daughter).
Samuel Kessel was a kosher butcher and the family claims that he worked with his son Harry until Harry married in 1913 and set up his own butcher shop. At some point after this Samuel worked in the rag business. According to his Declaration Intention signed in 1919, his occupation was "rag merchant" and he lived at 151 Poplar Street, Chelsea. This document also showed that he had a dark complexion, stood 5 feet 6 inches tall, weighed 148 pounds, and had black hair and gray eyes.[8]
About 1921, Samuel, Rachel Rose, and Sarah Kessel, moved into the ground floor of a triple-decker house on Orange Street in Chelsea that was owned by Samuel's son-in-law, Samuel Gass. Samuel and Lena Gass occupied the second floor and they rented out the third floor apartment. Mary and Abraham Gootman lived just a few houses down at 145 Orange Street. For a while Samuel and Rachel Rose Kessel continued to share their apartment with Sarah. When she married Sam Michaels, Sara and Sam took over the Orange Street home. Samuel Kessel and Rachel Rose moved in with Harry and his new family, and Samuel Kessel worked in the butcher store, which was now on the ground floor of Harry's house at 82 Arlington Street.
Minnie Forman remembered her Kessel grandparents:
"My grandfather Samuel Kessel worked in the chicken and meat business with his son, Harry. They used to take live chickens to the slaughterhouse, and sometimes he'd kill them right in the store.

"My grandmother spoke no English. She spoke Jewish to my husband and he answered her in English. 'Bubbe'(my grandmother) loved to cook and my grandfather loved to eat. She and my grandfather were like one. He used to say to her in Jewish–he used to call her 'Alta'–he said, 'Alta, you cook all day long and in five minutes it's all gone.' They were very close.

"My grandparents were quiet people. They never went to the hospital when they were sick. My grandfather was an asthmatic. I remember when he was dying he was lying on a feather mattress brought from Europe, and he was covered with a feather puff and choking to death. He died six months before I married, and I was so concerned that my wedding might be postponed."
Samuel Kessel died on October 8, 1936. His death certificate, which gives his last name as KASEL, lists the causes of death as "bronchial asthma, arteriosclerosis, arteri­osclerotic heart, and cerebral hemorrhage."  He was buried in Chevra Mishni Cemetery in Everett.[9]
"Sarah Michaels took Bubbe in to live with her after my grandfather died." recounted Minnie Gootman Forman. "My dad [Abraham Gootman] was in business with Samuel Gass, so my mother said to my father, 'You see Sam on business all the time. Why don't you tell him that the two of you are going pay Sarah fifty dollars a month to take care of Bubbe?'And that [the payment] went on until she died."
Sarah Michael's daughter, Minnie Glassman, remembered the years her grandmother Rachel Rose lived with them:
"Everybody come to see my grandmother, so it was always an open house. My grandmother's brother, Isaac Razin, was an old man by then and he came over all the time. He loved my father. They used to play cards together, Pinochle."
Rachel Rose lived with her daughter, Sarah Michaels, for the next nine years. As she grew older, Rachel Rose's grasp on reality weakened, and her care became too great a burden for Sarah. Her son Israel Kessel asked his son Joe to take Rachel Rose.
Joe's wife, Fran, remembered:
"Joe didn't even ask me if it was all right for Rachel Rose to live with us. He just said, 'yes,' when his father asked. I went along with him because I didn't realize the poor condition Rachel Rose was in. She moved in the next day and I realized imme­diately that it wouldn't work. Rachel Rose thought she was 50 years younger and still living in the old country. She'd mention people from Russia but was not in touch with the present. She'd walk out of the house, and before I knew it I had lost track of her. She'd wander in and out of the different yards, and I'd run and look for her. She wouldn't stay in the house. I called Joe at work and when his father came into store, Israel made the decision to put Rachel Rose in the Roslindale Rehabilitation Home for the Aged, so she could receive proper care.

"Rachel Rose 's daughters came to visit her and they realized my home was no place for their mother to be. I was so much younger than Rachel Rose and my children were still young. I couldn't sit and watch her. The daughters couldn't take care of her, eith­er, yet they didn't want to place her in a nursing home.

"My father-in-law paid the $1000 fee up front to get Rachel Rose into the home and he picked up all the other expenses. The rest of the family didn't chip in. Just about six months later, Rachel Rose passed away. She was almost 90 years old. The rest of the family thought she died quicker because she was placed in a nursing home."
Rachel Rose Rosen Kessel died on July 6, 1945, in the Hebrew Ladies Home for the Aged. According to her death certificate the cause of death was "acute congestive heart failure, due to myocarditis due to arteriosclerosis."[10]